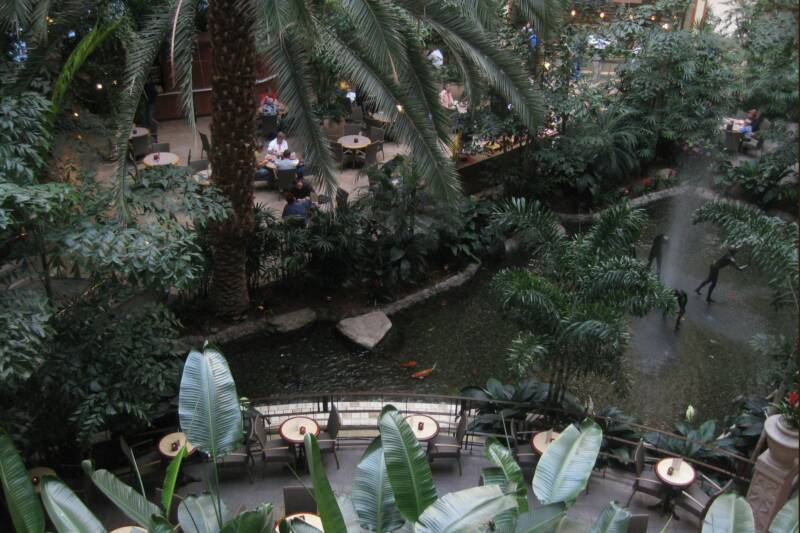 If you are planning to stay at the Embassy Suites, the hotel provides free shuttle service to and from the airport. They can also provide shuttle service to and from Cap if we are able to arrange an event there on Saturday for the early arrivers. BART is available at the airport if you want to go into San Francisco. The rooms are all two-room suites and provide accommodations for four people with some privacy. A cooked-to-order breakfast and evening cocktails and snacks are included with the room. The people at Embassy SSF seem anxious to make sure that our reunion experience is a good one.

We are very excited!  Ron and I have found and booked a great hotel for the reunion. We were able to negotiate exceptional pricing at the Embassy Suites Hotel in South San Francisco. It will provide a perfect informal setting for the event. The common area is a large atrium with

ample seating among the many trees and plants

around a beautiful fountain. The roof is all glass. We have the Sausalito and Tiburon

ballrooms off the atrium for the reunion. We also have a hospitality suite on the 10th floor for smaller gatherings.

The hotel is conveniently located in SSF close to SFO and Cap.

We will have the ballroom from Noon to 7:00 PM on Sunday 10/24/10. A luncheon buffet will be set up at 1:00 PM outside the room to maximize the space we have available for visiting, eating, and drinking.

The price for the reunion is $85 per person. This does not include lodging and there will be a cash bar.                                       

If you have $0.44 to spare and would like to mail a check, call Pam at 650-302-2016 for details.